---
BREYER BLOSSOM THE BALERINA BATH TIME HORSE
When this friendly Appaloosa is done pirouetting and prancing, she hops in the bath. • Surprise! Her brown markings turn pink in warm water! • Includes: "perfume" squirt bottle, hairbrush, tutu and tiara. Window Box Size: 10"L x 3"W x 9"H
---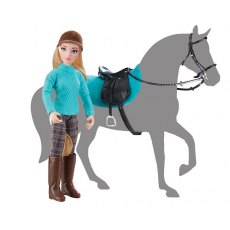 BREYER CLASSICS HEATHER ENGLISH RIDER
This lovely English rider is casually dressed for a lesson on her beautiful bay roan horse! • Includes: 6" articulated rider, saddle pad, English saddle and bridle. Window Box Size: 12"L x 3.25"W x 8"H
BREYER DELUXE COUNTRY STABLE & HORSE/WASH STALL
• Built-in, slide-out wash stall with swinging hose • Roof swings open on either side for additional access to 2 roomy stalls and loft, which has a moveable ladder • 4 Fencing sections create an attached paddock behind the barn, or can be used independently to create an enclosure • Attached saddle racks and bridle hooks for tack storage • Easy to assemble – just snap...
---
BREYER HIGH TIDES
The ocean calls and High Tide answers! Inspired by the untamed beauty of the sea, this stallion's wild mane and tail take on the color and shape of cresting waves that are preparing to crash over cerulean waters. High Tide's coat color mimics the layered blue and silver hues of the ocean, and is finished with a gorgeous high gloss finish. Window Box Size: 11"L x 2.65"W x 8"H
BREYER SPANISH MUSTANG FAMILY
The Spanish Mustang is descended from the horses brought to the Americas by Spanish explorers. While they're found in almost every color and pattern, a common characteristic is that their heads usually have a Spanish-type straight or convex profile. • While small in stature, the Spanish Mustang is known for being hardy, having strong hooves, and being intelligent. • Set includes Stallion,...
---
---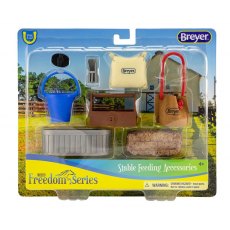 BREYER STABLE FEEDING SET
Every horse looks forward to feeding time! • Includes: Water trough, feedbag, bag of feed, bucket, scoop, hay bale, grooming tote and curry comb Note: Barn, doll and horse not included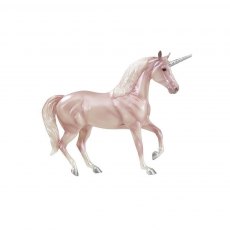 BREYER UNICORN AURORA
While most of her unicorn herd prefers to venture out at night, Aurora makes her appearance at the break of day, bringing with her the light of dawn! As bright and warm as her name, Aurora's joyful presence is welcomed by all the flora and fauna living in her forest. Her pearlescent pink coat is kissed by the sun's morning glow, and her flowing mane and tail sparkle in the sunlight!
---
BREYER UNICORN PAINT & PLAY
veryone's favorite Stablemates craft, now with unicorns! • Various styles of unicorn • Each style includes: 1 ready-to-paint Stablemates unicorn, 1 paintbrush, and 3 paint pots with iridescent fantasy colors (silver, pink, and purple) on a blister card. Blister Card Size: 6.25"L x 1.5"W x 8.5"H