---
LEMIEUX CONDUCTIVE MAGNOTHERAPY BOOTS
The LeMieux Conductive Boots herald a new approach to magnetic therapy. Unique inner liners contain a woven layer of steel fibres directly under 18 powerful 2600 gauss magnets. The steel filaments conduct magnetic waves evenly around the lining bringing the whole leg within the magnetic field Acknowledged benefits of using magnets include: Helps blood supply to tendons & joints pre-exercise. Aids...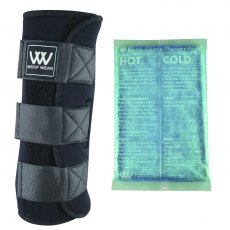 Woof Wear Ice Therapy Boots inc Therapy Packs
The Ice Therapy Boot is a versatile boot that enables both hot and cold therapy to aid recovery after periods of stress and as a complementary treatment for leg injuries. Made from 7mm closed cell neoprene featuring touch & close fastenings for improved fit, the elasticated mesh pockets safely contain hot & cold therapy packs as well as ice.These boots are a useful addition to the kit bag at...