---
Ariat Sunstopper Junior 1/4 Zip Rose Violet Dot
A lightweight layer designed to work hard. The durable Sunstopper has built-in sun protection, mesh panels for ventilation and moisture-wicking properties to keep you drier. Heat Series technology keeps you cool when the competition heats up, Sun Protection Fabric provides protection from ultraviolet rays, Moisture Movement Technology wicks moisture away from the skin, Lightweight pique knit, Breathable...
---
LEMIEUX MINI BASE LAYER
New to the Mini LeMiieux range, the Mini LeMieux Base Layer is matching heaven! Designed to co-ordinate with the Mini collection of hat silks, saddle pads, polo bandages & fly hoods with the polka dot design and made specifically for the Mini rider. Sweat wicking, thermal material designed to keep you warm and comfortable whatever the season. The silky smooth anti-microbial material offers a stylish...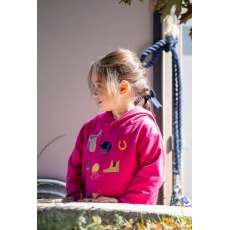 SHIRES TIKABOO HOODIE
Cosy comfort that little ones will love. This hoodie has a soft, fleecy lining, featuring this year's Tikaboo design on the front and back.