---
Crew Clothing Ladies' Essential Breton
A wardrobe staple made from lightweight supersoft cotton with a curved hem for a flattering fit. Style with jeans and trainers on days off. Because stripes always look good. 100% cotton Crossed oars embroidered on the hem Lead model is 5'10'' and wears a size 8 Machine wash at 30 degrees
Crew Clothing Men's Classic Micro Gingham Shirt
Designed with a tighter check than Crew's classic gingham, this is a modern take on an original style. Pair with jeans, chinos or shorts for week-to-weekend style made easy. It just works. 100% cotton Classic fit Branded buttons Crossed oars embroidered on the chest Crew embroidery across the hanger loop Lead model is 6' 1/2"" and wears a size M Machine wash at 40 degrees
---
Crew Clothing Men's Classic Pique Polo Shirt
Pair with chinos for a classic look or layer under a blazer to add a modern twist. 100% cotton piqué Washed for softness Ribbed collar and sleeve Embroidered Crew branding under the collar Crossed oars embroidered on the chest Classic fit Lead model is 6'0" and wears a size M Machine wash at 30 degrees
Crew Clothing Ocean Classic Polo Shirt
Taking inspiration from our heritage style, this shirt features all the same signature details – but it's crafted from organic cotton pique that's grown without pesticides. This helps prevent chemicals from making their way into our waterways. Look out for our crossed oars proudly embroidered on the chest. A smart choice. 100% organic cotton piqué Ribbed collar and sleeve Branded...
---
Crew Clothing Crossed Oars Hoodie
Perfect for sofa days and surfing days, we love the crossed oars embroidered on the chest. Wear wherever winter takes you – or indeed wherever you're staying put. 100% cotton Crossed oars embroidered on the chest Lead model is 6' 1"" and wears a size M Machine wash
Crew Clothing Ladies' Half Zip Sweatshirt
What makes Crew's sweats extra special? They're made from a blend of recycled fibres and features all the details you know and love. From herringbone touches to the cosy funnel collar to the fabric that's been washed for softness, we've thought about it all with this piece. 55% recycled cotton 25% cotton 20% recycled polyester Branded zip pull Ribbed inner collar, cuffs and hem Washed...
---
Crew Clothing Ladies' Heritage V Neck Cable Jumper
A wardrobe classic you'll turn to time and time again, we love the twisted stitching that gives plenty of texture. Pair with jeans for an effortless ensemble. 95% cotton 5% cashmere Ribbed collars, cuffs and hem Crossed oars embroidered on the chest Lead model is 5'9" and wears a size 8 Machine wash at 30 degrees
Crew Clothing Men's Classic Half Zip Sweatshirt
Supersoft with a fitted shape that goes just as well with your smarter chinos as it does with your jeans. For the week and the weekend. 80% cotton, 20% polyester Gently brushed inside for comfort and warmth Ribbed cuff, inner collar and hem Branded zip pull Crossed oars embroidered on the chest Lead model is 6'1/2" and wears a size M Machine wash
---
Crew Clothing Men's Padstow Pique Sweatshirt
Washed so it feels like an old favourite from new, this 100% cotton sweatshirt layers over tees and polos alike. 100% cotton Crossed oars embroidered on the chest Ribbed inner collar Lead model is 6' 1/2" and wears a size M Machine wash at 30 degrees
Crew Clothing Men's Regatta Cable Crew Jumper
This stylish piece features a double ribbed collar, cable detailing and our signature crossed oars on the chest. Style with denim and boots for relaxed sophistication. 50% cotton 50% acrylic Ribbed collar, cuffs and hem Crossed oars embroidered on hem Lead model is 6'0" and wears a size M Machine wash at 30 degrees
---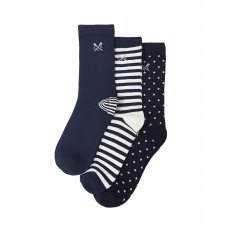 Crew Clothing Ladies' Bamboo Socks - 3pk
Socks made from bamboo are the best kind of socks. Soft, breathable and hypoallergenic. For every day. 79% viscose (from bamboo), 20% polyester, 1% elastane Machine wash at 30 degrees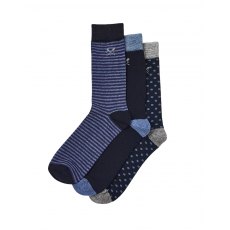 Crew Clothing Men's Bamboo Socks - 3pk
The bamboo blend is highly regarded for its supersoft, extra breathable and naturally antibacterial qualities that help to keep feet fresh. Treat your toes. 79% viscose (from bamboo) 20% polyester 1% elastane Machine wash at 30 degrees
Crew Clothing Categories