---
Kaiwaka Stormforce Ladies' Parka
Twin-skin technology, a winner in the wet Looking good and ready for action, this top-selling twin-skin women's waterproof jacket offers unbeatable performance, total reliability, and unstoppable protection in the wet. The tailoring, design, functionality and quality are technically brilliant. 100% wind-proof, rain-proof, and breathable. FEATURES Form-fitting cut, thigh-length design, elongated...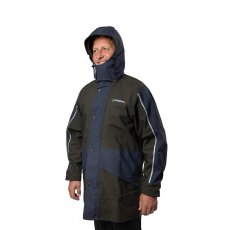 Kaiwaka Stormforce Mens Parka
Twin-skin technology, born at Kaiwaka The original twin-skin waterproof jacket and still one of our bestsellers, this high spec parka offers unbeatable quality and craftsmanship - keeping you warm, comfy and dry through the wildest weather. 100% wind and rain-proof, totally breathable. FEATURES Full-face storm-proof collar and hood, with drawstring and toggle adjustment Improved peak design for...
---
KAIWAKA STORMFORCE TROUSERS LADIES
TWIN-SKIN TECHNOLOGY, WHO'S WEARING THE PANTS NOW The perfect accompaniment to our twin-skin Stormforce parka or winter jacket, these high spec women's waterproof pants offer 100% weather protection, without cramping your style. Ease of movement, breathability and comfort are legendary features of the Stormforce LOTL range.
Kaiwaka Categories